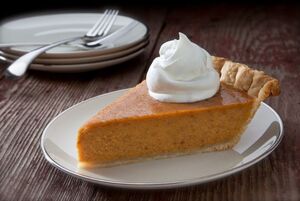 Ingredients
[
]
Directions
[
]
Prick pastry shell with a fork.
Bake in 450°F oven for 8 minutes.
Pour into partially baked pie shell.
Bake in 350°F oven for 50 minutes or until centre is almost set.
Cool slightly and then refrigerate.
Cut into 8 wedges and serve each with 2 tbsp light vanilla ice cream.
Preparation 15 minutes, cook 50 minutes.
Notes
[
]
Nutritional information
[
]
⅛ pie with 2 tbsp light vanilla ice cream:
173 calories
20 g carbohydrate
5 g protein
9 g fat
1 g fibre
½ starchy choice