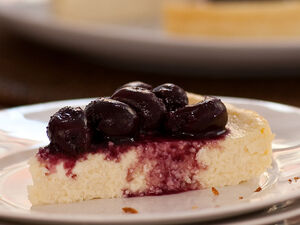 Prep Time: 20 minutes
Cook Time: 55 minutes
Yields: 8 servings
Description
[
]
I like to experiment in the kitchen. I tend to prefer strawberry cheesecake but after reading about sour cherries, I thought it would be interesting to see what a sour cherry cheesecake would be like.
Ingredients
[
]
Cooking spray
1 16-ounce container of part-skim ricotta cheese
1/2 cup of reduced-fat sour cream
4 ounces of neufchatel cheese, or reduced fat cream cheese, softened
3 large eggs
3/4 cup of sugar
1 teaspoon vanilla extract
1 teaspoon of finely grated lemon zest
1/4 teaspoon salt
2 cups fresh or frozen pitted sweet cherries
1 tablespoon honey
1 tablespoon lemon juice
1/2 teaspoon unflavored gelatin
Directions
[
]
1. Preheat oven to 325 degrees.
2. Coat a 9-inch spring form pan with cooking spray.
3. Place ricotta in a food processor and process until it becomes smooth and creamy. Add sour cream, cream cheese, eggs, sugar, flour, vanilla, lemon zest and salt. Mix ingredients until they are well blended.
4. Pour mixture into the prepared pan and bake for 50-55 minutes, or until the center is just set (after 50-55 minutes, the center should jiggle a little bit).
5. Transfer pie to a wire rack to cool, then cover and chill in the refrigerator for at least 3 hours.
6. Place the cherries, honey, and lemon juice in a medium saucepan and bring to a boil. Allow cherries to boil for no more than 5 minutes and remove the pan from heat.
7. In a small (separate) bowl, stir the gelatin in warm water until the gelatin has dissolved. Stir the dissolved gelatin into the cherry mixture. Cover and refrigerate for 3 hours. Be sure to stir the mixture no more than two times so that the mixture thickens but does not adhere to the pan.
8. After allowing the cheesecake to chill for 3 hours, top the cheesecake with the cherry mixture and serve. (Note: if you are not eating it right away, the cheesecake can remain refrigerated and covered for up to three days.)