James w Hausmann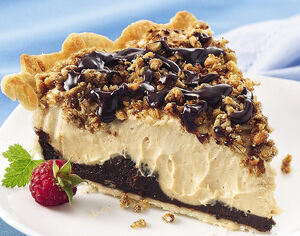 Cook Time
: About 60 minutes total
Serves: 6
Ingredients
Directions
In small mixing bowl at medium speed, beat eggs until well beaten.
Add peanut butter and continue beating.
Beat in sugar and vanilla until well blended.
At low speed, gradually beat in milk until smooth. Pour into pie shell.
Bake on bottom rack of preheated 400°F. oven until knife inserted near center comes out clean – approximately 35 minutes.
Cool on a wire rack, then refrigerate. Garnish with whipped topping and peanut halves, if desired.
Source
Peanut & Pecan Recipes by the South Carolina Department of Agriculture, public domain government resource—original source of recipe
Community content is available under
CC-BY-SA
unless otherwise noted.