Description
Peanut butter fans will like this nourishing bar cookie.
Peanut Butter Bars from Recipes for Better Nutrition During Cancer Treatment by the National Cancer Institute, public domain government resource—original source of recipe
Cook Time: About 50–55 minutes total
Serves: 36
Ingredients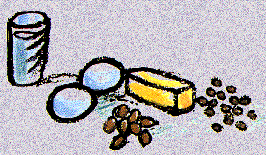 Directions
Cream margarine and peanut butter.
Add brown sugar and mix well.
Add both eggs and mix until well blended.
Stir in dry ingredients until blended, then chocolate chips and nuts.
Spread batter in greased and floured 9-inch square pan.
Bake at 350°F for 30–35 minutes.
Cool in pan.