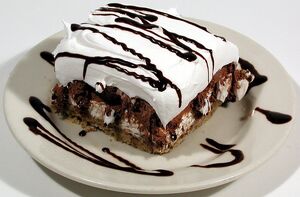 Info
Peanut & Pecan Recipes by the South Carolina Department of Agriculture, public domain government resource—original source of recipe
Cook Time: About 1 hour
Serves: 15
Ingredients
Directions
In a large saucepan melt butter over low heat. Add cocoa and stir until well blended. Remove from heat and add sugar, eggs and vanilla, mixing well.
In a separate container. combine flour, salt and peanuts. Stir to coat peanuts. Add gradually (but quickly) to saucepan ingredients.
Spoon batter into a greased 13" x 9" x 2" pan. Bake in a preheated 350 degree oven for 35 to 40 minutes (or until tester comes out clean). Spread marshmallows over warm cake.