Description
[
]
This is a Swiss family recipe I received from my aunt. It is a well balanced dessert. It is a traditional European dessert bread that can be served during a meal or as a light dessert. It is known for its understated sweetness and characteristic ring shape. Traditionally this is baked in a mold known as a gugelhopf (or kugelhopf) pan. Bundt pans, with their round form, deep fluted sides and central funnel will substitute fine.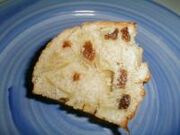 Ingredients
[
]
Directions
[
]
Sift flour, baking powder and salt.
Fold dry ingredients into creamy mixture.
Add needed milk.
Pour into greased cake form/angel food cake pan.
Bake at 350 °F for 30 to 40 minutes.
Remove from oven and cool.
If you wish to add a glaze use recipe below.
To create a glaze, combine 3 cups of powdered sugar, ¾ cup of milk, ½ teaspoon vanilla extract, and the zest (grated skin) of 1

orange

in a large bowl.
Drizzle glaze on top of gugelhopf and enjoy!.