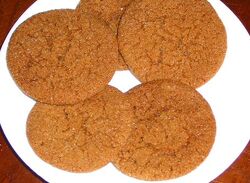 Introduction
These chewy ginger cookies are soft and delicately flavored.
Info
Cook Time: 15 minutes prep, 11 minutes baking
Serves: 48-54
Ingredients
Directions
Preheat oven to 350°F (200°C).
Cream the butter and the sugar.
Add the egg and stir in the molasses.
Combine the baking soda, flour, spices and salt in a separate bowl.
Combine the wet and dry mixtures.
Shape into small (2 cm diameter) balls and roll in granulated sugar.
Place on greased cookie sheet. Do not flatten balls.
Bake for about 11 minutes.
Source
Chewy Ginger Cookies from the Wikibooks Cookbook—original source of recipe, licensed under the GNU Free Documentation License
Community content is available under
CC-BY-SA
unless otherwise noted.