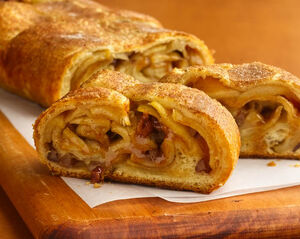 Description
In Romanian: Placinta cu mere in stil romanesc
Ingredients
[
]
Filling
[
]
Directions
[
]
Peel the apples, grate on the vegetable grater or slice very thinly and set to boil with 2 - 3 tablespoons of water, stirring continuously.
Remove from heat and let cool. When cold, add the cinnamon.
Cut the

strudel dough

into pieces the size of the baking pan.
Arrange 6 - 7 strudel leaves into the greased pan.
Grease each and every leaf.
Then put the apples in a uniform layer.
Place another 6 - 7 individually greased strudel leaves on top.
Bake until golden brown.
Cut into squares while still in the pan.
When the pie is done, cut into squares and sprinkle with confectioner's sugar.